PA HIRE / SPEAKER HIRE
Here at Gorilla – PA HIRE and SPEAKER HIRE is at the heart of what we do. Based in CARDIFF we service a wide range of events from  Weddings, Birthday parties, Corporate events through to large club nights, warehouse parties and festival stages. Gorilla understand how important it is to have the right set up  whatever the budget, whatever the brief.
Below are some of our most popular PA and speaker hire packages  …..
---
System 1:
Active system – Up to 1500 watts (50-80 people)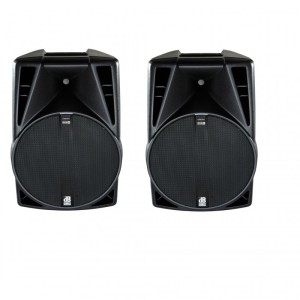 Includes:
2 x dB Technologies  Opera 715DX  Full Range speakers
2 x Stands
1 x Minijack  cable for you to connect your Ipod/Ipad/Laptop/phone etc.
 Our dB Technologies  speakers have amplifiers built in eliminating the need for external ones. This  makes them very quick to set up and incredibly compact. All of Gorilla Audios active speakers use  Class D amplification technology. This means they are very lightweight as well, making them the perfect portable solution – Great sound, powerful and  incredibly simple for anyone to set up. Add the sub for a bit more volume at low frequencies.
Rent this Sound System – £60 + Delivery
---
System 2:
Premium 2Kw Martin Audio Blackline System  – (80- 150 people)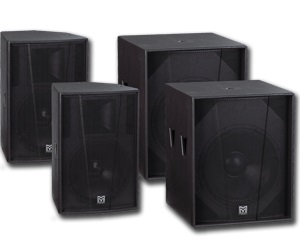 Includes:
2 x Martin Audio F12+ tops,
2 x Martin Audio S18 Bass Cabs,
Ultra Compact Powersoft Amp Rack, speaker poles and cables.
Anyone who has heard of Martin Audio will associate the brand with high end quality sound reproduction. Being one of the very first UK based concert speaker manufacture back in the 60s, these guys really no what they are doing, and the Blackline series is nothing but proof of that. This simply designed, discrete 'Reflex' loaded system has many applications and it really does sound great no matter where you place it or what you throw at it. This system will happily cater for bands and small gigs as well as speech, and dance play back. The highs from the F12s are effortlessly clear and smooth without being painful, and the bass is rich, warm and incredibly punchy even at low volumes. Whilst 'reflex loaded' speakers sound brilliant, the sound doesn't travel as far as it does with the horn loaded options we also offer, so this system is perfect if you want to keep sound spill and complaints from the neighbors to a minimum.
Hire this PA System – £150 + Delivery
---
System 3:
3Kw Funktion One Resolution One system (100 – 200 people)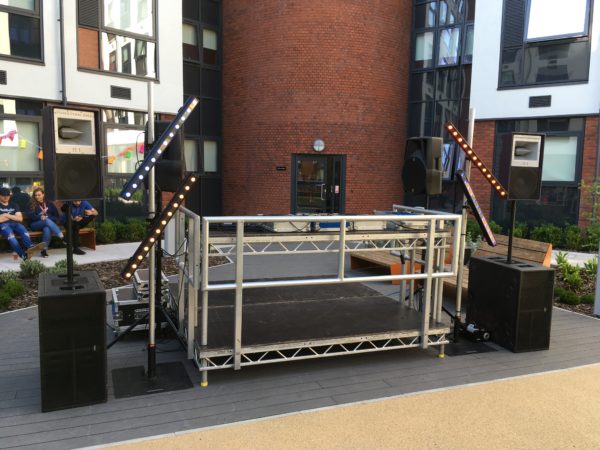 Includes:
2x Funktion one Res 1 Mid/Hi
2x Void Arcline X Subs,
Ultra compact Powersoft Amp Rack, Poles and cables.
Taking the highly sought after Funktion One brand and making it affordable and available for you. Teamed up with the awesome Void Arcline X subs, Clear, punchy, clean sound is ensured at any event this system will grace. Due to a unique modification we have made, All this comes from a  very small footprint, being only 50cm wide  per stack, this is great when space is at a premium. This system is guaranteed to turn heads. 
Hire this Sound System – £220 + Delivery 
---
System 4:
Void Airmotion V2 system (Will cover up to 350 people) 
Made to turn heads…….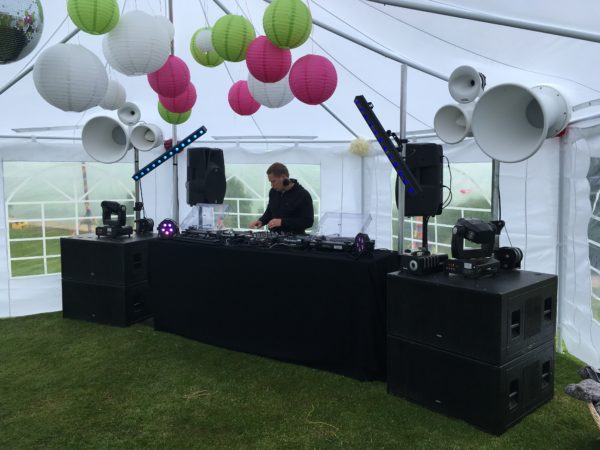 Includes:
2x Void Acoustics Airmotion V2,
4x Void Acoustics Arcline X subs,
Powersoft X Series Amp rack, Winch stands and Cables,
Hire this Airmotion Sound System – £320 + Delivery 
Our Void Airmotion Systems are perfect for making your event stand out like no other. These unique speakers are guaranteed to make any head turn. They not only look the part, but they sound even better. These same speakers are used in countless clubs and venues around the world, so are also great for all the ravers at heart. We currently stock these in White.
---
PA HIRE CARDIFF WALES, VOID SOUNDSYSTEM, FUNKTION ONE SOUNDSYSTEM, PUBLIC ADDRESS SYSTEMS, EVENT PRODUCTION, SOUND SYSTEMS, SOUTH WALES. PA HIRE CARDIFF WALES.
STAGE HIRE, LIGHTING HIRE, DJ EQUIPMENT HIRE, 4K TV SCREEN HIRE, DJ TRUCK HIRE