LiteStructures LiteDeck –
Gorilla Audio have invested in the ever popular Prolyte Litedeck staging system. We stock a range of Deck, Handrail and Accessories. All of this has been purchased inline with what other local companies stock, so we will always be able to provide as much as you need.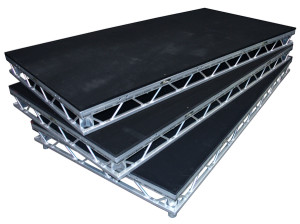 We Stock Litedeck Staging in the following sizes –
8x4ft section – £25
8x2ft section – £20
Treads – From £10
8ft Handrail – £12
4ft Handrail – £10
6ft leg – £2
3ft leg – £1
2ft leg – £1
1ft leg – £1
* All prices listed are for a Week hire. The prices have not factored in Delivery and assembly if it is required.
Milos and LiteStructures Truss
We stock many lengths of both high load bearing box truss and lightweight triangular truss, along with corner sections, allowing for many shapes and sizes to be easily created. We are able to help you create bespoke shapes and designs just for your event
Prolyte H30v Box Truss- £12 per meter
LiteStructures Trilite – £5 per meter
Gala Marquees:
Gorilla Audio Stock Gala Marquees in a small range of size's. These are strong but lightweight. As well as this they are very easy and quick to erect. This can be done with a minimum of 2 people which makes these very cost effective.  All marquees can come with open sides, or we stock full sets of back, front and side walls for all of them. As well as this we provide weights or tie down kits for them depending on the surface its going on.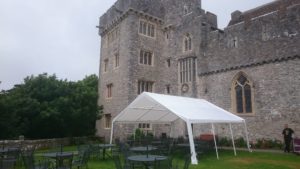 Gala 6x6m Marquee (Including sides) – £300 + Set up and Delivery
Gala 3x3m Pop up Gazebo (including sides) – £100 + Set up and Delivery 
Budget 2.4×2.4m Lightweight popup Gazebo (No Sides)  – £40
-Other sizes and configurations are available. Get in touch.