Lighting Hire

We at Gorilla Audio & Productions understand that when you are organizing an event, having one company organise and supply the all the production rather than several, makes life a whole lot easier and stress free. Therefore, as well as Audio equipment, we stock a small but rapidly expanding range of lighting  products aimed at the dance and live music sector. We can offer the Dry hire of single items or packages to suit your needs and our stock includes Moving heads from Chauvet and Showtec, Par cans, Led Battens, fog machines and Uv cannons and much more. Due to good links with another company we are not just limited to our stock and can provide a larger selection of  higher end products (including Martin lighting, Robe and Avolites) if that is what you require.
To make it a bit easier for you, We have broken the type lighting we can provide into two different categories depending on the type of event you are holding. Click on the images below to see more.
Lighting and uplighting for Weddings and parties.                                                                                     Lighting for concerts and large events.
Or if you are looking to dry hire equipment, please see our kit list
Please see our Dry Hire rate card for prices: Gorilla Audio – Item Hire rate card 2016
Gorilla Audio Provides Lighting, rigging and AV for Spotify Secret Social in June 2015
Concert Lighting
Utilizing the latest, cost-effective lighting solutions and 'moving head' technology, Gorilla Audio are able to offer professional concert lighting at a highly affordable cost. This is from the design of the  lighting, right up to Hiring out and having one of our operators running a specially  tailored light show at your event. Obviously, prices for this vary a great deal depending on your demands and requirements. So why not get in touch with one of our team to discuss this and get a quote now.
Strobes, Lasers, UV, Mirror balls and Atmospherics! 
At Gorilla, we understand that lasers and Fx can play a huge part in making a night special. We offer a range of RGB, Green and Blue lasers from KAM and LANTA.
Fog Machines or haze are the key ingredient to making a laser or lighting  show come alive, by highlighting the beams produced by fixtures the fog adds a third dimension to any light show. We stock a range of club and industry standard Martin Magnum fog machines and Jem Hazers.
We also stock powerful 3Kw DMX Strobe lights and UV cannons and much more.
Lighting Design and Visualisations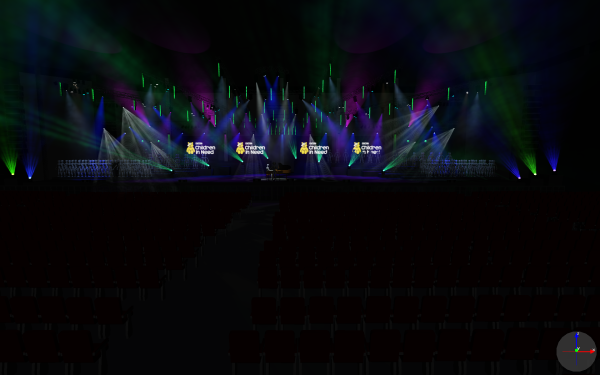 Utilizing the powerful design software WYSIWYG, we also can offer lighting design and visualisations from small to large shows and performances with up to 100 or more intelligent lights. See images below where a full large light show was virtually created for the Motorpoint Arena in Cardiff. Contact us for details about this.
Architectural Lighting and Uplighters
Uplighters look really effective at certain types of events. These usually include, but are in no way limited to weddings and corporate events. They look particularly effective if there are certain architectural features to uplight as well, such as doorways, Arches, stones walls. Uplighters are also great at making 'boring' rooms look interesting very quickly and cost effectively. Our Uplighters can be left on fixed colours, can be DMX controlled, or will slowly fade between colours simultaneously. We also offer weatherproof outdoor MBI floodlighting and Festoon lights which are great ways of making outdoor spaces come alive as well as providing light where it is required. Get in Touch to see how we can use Uplighters or Architectural lighting to make your event come alive.
Other 
If there is any type of lighting that you require which hasnt been mentioned, please do still get in touch with us. Due to fantastic links and working relationships with other UK companies, we would still be able to help you source exactly what it it you require.